Regional Conference
---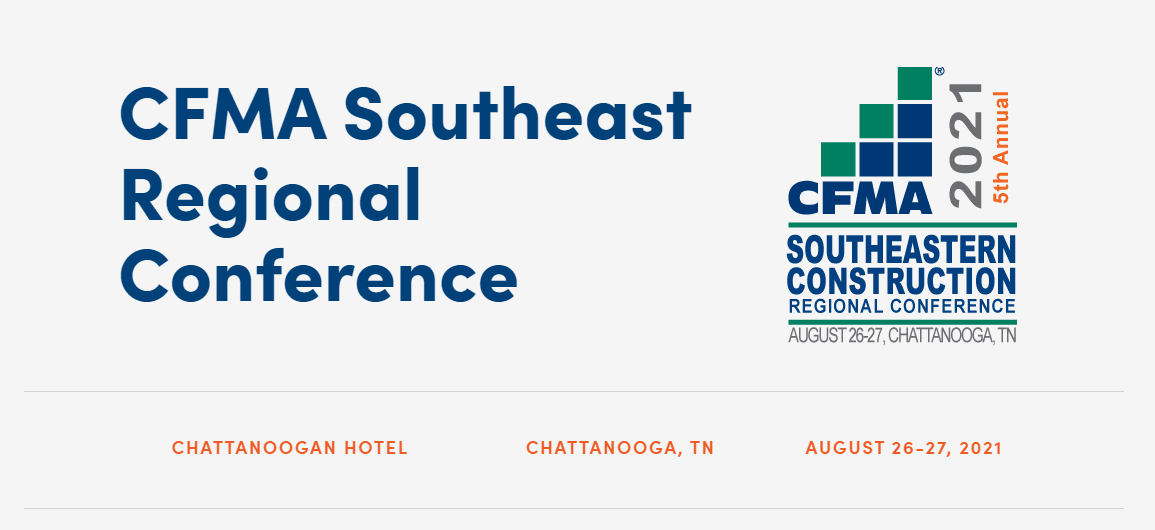 Why Attend?
The Birmingham and Middle Tennessee CFMA chapters have joined together to provide the 5th annual CFMA Southeastern Construction Regional Conference. Together, we are committed to delivering the best networking, education, and training experience of any kind in the field of construction accounting and finance. We understand the challenges Construction Financial Managers face and we realize you do not have the time or resources to stay abreast of all aspects of what that job entails. That is why we created this annual event.
Who Should Attend?
The CFMA Southeastern Construction Regional Conference is designed for CFOs, controllers, and financial managers in the construction industry; construction CPAs; banking and financial service professionals; insurance professionals; surety underwriters; attorneys; and other construction industry specialists. Sessions are designed as group-live programs at the basic level and unless otherwise indicated in the session description, there are no prerequisites or advanced preparation required.
Sessions & Speakers:
A&A update
Presentation by: Robert Coker | Carr, Riggs & Ingram; Larry May | Carr, Riggs & Ingram
Join Carr, Riggs & Ingram partners Robert Coker and Larry May for a presentation on current accounting issues.
They will discuss the Employee Retention Credit, created by the CARES Act and subsequently expanded, including how to determine if you qualify and if so, how the credit is calculated. Although the PPP loans received the majority of attention, this credit could be even more lucrative for many companies. In addition, they will cover the new leasing standard that becomes effective for private companies with a year-end beginning after December 15, 2021 and the potential impact on a contractors financial statements, working capital and bottom line.
Level: Overview
1.0 CPE Credits in Specialized Knowledge
"The 2020 Impact on Diversity and Inclusion in Construction"
Presentation by: Natalie Kelly | Brasfield & Gorrie
Join Natalie Kelly, Director of Corporate Responsibility at Brasfield & Gorrie, for a conversation about how the events of 2020 shaped a renewed commitment to increasing diversity and inclusion in the construction industry. She will share her perspective regarding the opportunities and challenges facing the sector as companies seek to increase workforce diversity, impact minority-owned businesses, and foster more inclusive work environments.
Level: Overview
1.0 CPE Credits in Specialized Knowledge
"The Current State of the Surety Industry"- A Panel Discussion With 4 Leading Surety Executives
Presentation by: Michael Heidrick | Hartford Bond; Michael Bond | Markel; Patrick McGrail-Peasley | Travelers
Conversation Objectives:
Overall construction industry trends and current insights.
Industry changes coming out of a pandemic
Top Challenges facing contractors and sureties today
Claims trends and expectations
How the best-of-the-best are differentiating themselves in todays market
Level: Overview
1.5 CPE Credits in Specialized Knowledge
Fraud
Presentation by: Kevin McCarthy | Blindspots LLC
We all have them, hidden biases, implicit associations, and thinking errors. They cloud perception, drive destructive behaviors, and impair decision-making. Expose the invisible barriers that hobble your performance at work and at home.
This presentation will help with the following:
Identify the blind spots that hinder you from living your best life
Better communicate with others and reduce conflict
Enjoy improved relationships with co-workers, friends and family
Make more ethical decisions, at work and at home
Expose invisible barriers that impact culture, operations, training, service and leadership
Level: Overview
1.5 CPE Credits in Specialized Knowledge
"Leading Change - People, Culture, Process, and Technology"
Presentation by: Jason Keen | Jon M Hall Company; Brian Riggs | Riggs Enterprise
It is often said that a lawyer from the 1800's could walk into a courtroom in 2019 and find that not much has changed. The environment, the people and the processes in the pre-pandemic era remained relatively unchanged. While this isn't entirely true for the construction industry, our sector is challenged by legacy cultures, outdated processes and systems, and antiquated employee recruitment, retention and engagement strategies. However, we began to see change coming in the pre-pandemic era and now, change is here to stay.
To achieve success in today's rapidly changing environment, owners and leadership teams need to change their mindsets. More importantly, CFM's need to embrace a new set of skills and play a different role within their companies if they want to compete in this new marketplace.
During this session, attendees will learn how CFM's can play a larger role in key areas such as leadership development, organizational culture, internal engagement and team growth. Through a series of real-life case studies, our speakers will explore how thinking beyond finance will help your company's growth strategies and ultimately repositioning the CFM and the construction industry for a different kind of future.
Level: Overview
1.5 CPE Credits in Specialized Knowledge
"Leadership from the Battlefield to the Boardroom"
Presentation by: Jeff Morris
An unflinching honest account of an Army officer's journey through combat in the Iraq War and his battle to rise above the scars that trauma left behind. The lessons learned about overcoming adversity, dealing with different individuals personalities, and pulling them all together during difficult circumstance. Now applying those skills in his everyday life, leading individuals in the business world.
Level: Overview
1.5 CPE Credits in Specialized Knowledge
"ESOPs Demystified"
Presentation by: Alan Taylor | BKD; Angela Fisher | BKD
This session will rely heavily on real life stories to help participants better understand an ESOPs potential application in succession and ownership transfer planning. This session will discuss what characteristics and objectives are best suited for selling your company to an ESOP. This session will discuss best practices for maximizing the benefit of an ESOP owned company
Level: Overview
1.0 CPE Credits in Specialized Knowledge
"Process Automation… Getting My Life Back!"
Presentation by: Robert C. Mansmann | Capitalize Analytics; Christopher McKay | Capitalize Analytics
Finance departments spend up to 80% of their time looking for data… figuring out how to get access to the data… questioning the quality of the data… working in excel prepping, blending, doing vlookups and joins… only to realize the format changed; the columns don't line up; someone changed the formula… and… I have to start over!? In this session we will introduce you to ABBYY, Alteryx and UiPath, technology platforms enabling the Finance, Accounting, Tax and Audit groups to eliminate the manual process, headache and frustration of dealing with pulling information from emails, Word documents, PDFs, writing SQL scripts and working in excel.
Level: Overview
1.0 CPE Credits in Specialized Knowledge
"How to Ask the Right Questions"
Presentation by: Alex Lee, CPA, CCIFP, AICPA | Roy T. Goodwin Contractors
Do you want more accurate and visually appealing analytics? This introductory session from a CFM, for CFMs, will dive into what a database is, teach you how to understand your data structure, and show you how to improve or build better reporting systems. This hands-on session with practice tools will utilize Excel and work on a sample database to write queries and perform data analysis.
Learning Objectives:
Understand the framework and structure of modern databases used by construction companies
Understand data types, tables, relationships, queries, and reports
Understand structured queries and learn how to write queries that can be used in any SQL database
Level: Overview
1.5 CPE Credits in Specialized Knowledge
"The Digital Transformation"
Presentation by: Olga Alemany | RSM US LLP
RSM will be presenting on what digital transformation means for construction firms, what the ideal digital contractor looks like, and the risks associated with not adopting to digital processes. RSM will also cover emerging technology trends and review leading software and systems within the industry. The presentation will conclude with an overview and demonstration of an emerging Robotics Process Automation technology, Automation Anywhere.
Level: Overview
1.5 CPE Credits in Specialized Knowledge
"Cash is King! Analyzing and Controlling Cash Flow"
Presentation by: Robert Mercado | Marcum
We will discuss why cash flow is so important and how quickly a subcontractor can get behind on cash flow. How can a contractor accelerate cash flow on projects to have the customer finance the project? How to analyze cash flow to make sure that your company continues to be ahead.

Level: Overview
1.0 CPE Credits in Specialized Knowledge
"The Construction Technology Uprising is coming HERE!"
Presentation by: Wayne Newitt | Viewpoint
Are construction industry professionals tired of being called late technology adopters? They should be. Most of the industry is not simply interested anymore, many are adopting technology and finding success. The choice for many construction companies is not about a matter if, but a matter of when? However, it is also important to research and select the right technology based on the company, size, trade and delivery model. In our time together, we will learn and discuss three major items:
What technology in the last five years has not only been adopted but implemented and accepted?
Are there real success stories out there of companies making investment and cashing in on the ROI?
What does the next five years look like in construction technology and how will it shape the industry?
Level: Overview
1.0 CPE Credits in Specialized Knowledge
"Contract Language- What the Pandemic Has Changed"
Presentation by: Thomas Hall | Smith Cashion & Orr, PLC
The pandemic caused many changes across the country. Contract language is one that received some changes. Who really bears the risk now? Here are some of the changes that will effect contractors:
Delay Clauses
Material Escalation Clauses
Labor shortage
Level: Overview
1.0 CPE Credits in Specialized Knowledge
"The US Economy: Where We Have Been, Where We Are Going, and What Does it Mean?"
Presentation by: Dr. John Norris | Oakworth Capital Bank
After more than a year of economic lockdowns, starts & stops, bottlenecks, distribution delays, and societal discord, what does the future hold in store for the US economy? Will there be smoother sailing? Or is the so-called "New Normal" nothing more than order backlogs, higher commodity prices, and deficit spending? Mr. Norris will help to make sense of the noise, and paint a realistic picture of what to expect moving forward.
Objectives for the presentation:
Dissect the current status of the US economy
Forecast a realistic expectation for future economic growth
Analyze how this will or could impact the financial and construction industries
Discuss any potential challenges to our predictions.
Level: Overview
1.5 CPE Credits in Specialized Knowledge